One recent Monday evening after our group meditation, my friend and I experienced what seemed to be the intersection of two different realities. What follows actually happened.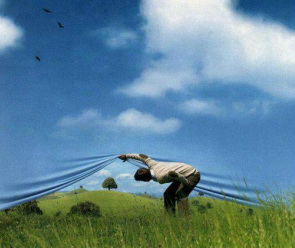 Friend: "I have to ask you something that's bothering me."
Tonia: "Sure, go ahead."
Friend: "Why did you push me away?"
Tonia: "What are you talking about?" (I'm confused about what she's referring to.)
Friend: "I rubbed your shoulders for a moment, then took your hands. Then you pushed my hands away with a lot of force, like this." (She repeats the gesture she experienced.)
Tonia: "When?"
Friend: "Just now."
Tonia: "Just now, just now??"
Friend: "Yes."
Tonia: "That didn't happen."
Friend: "Yes it did, and I felt rejected by you because you pushed me away so hard."
Tonia: "Well, as far as I'm concerned it didn't happen at all. But if you actually experienced it, it's possible I just let go of your hands very purposefully and that may have felt like a push."
Friend: "Okay, that makes sense."
Tonia: "If I did it I didn't mean anything by it. Yet I honestly don't have any recall of you touching me at all, in any way."

In both realities we were in my kitchen and I was sitting at the kitchen table.
In her reality, she placed her hands on my shoulders as I sat at the table. She then took both of my hands in hers, then I let go by pushing her hands away.
In my reality, I sat at the kitchen table and she was standing next to me the whole time. She never touched me at all.

I checked to see what the Internet had to say about parallel universes and here's an excerpt from Wikipedia:
The
multiverse
(or
meta-universe
) is the
hypothetical
set of infinite or finite possible
universes
(including the historical universe we consistently experience) that together comprise everything that exists and can exist: the entirety of
space
,
time
,
matter
, and
energy
as well as the
physical laws
and
constants
that describe them. The term was coined in 1895 by the American philosopher and psychologist
William James
.
[1]
The various universes within the multiverse are sometimes called
parallel universes
.
The structure of the multiverse, the nature of each universe within it, and the relationship between the various constituent universes, depend on the specific multiverse hypothesis considered. Multiple universes have been hypothesized in
cosmology
,
physics
,
astronomy
,
religion
,
philosophy
,
transpersonal psychology
and
fiction
, particularly in
science fiction
and
fantasy
. In these contexts, parallel universes are also called "alternative universes", "quantum universes", "interpenetrating dimensions", "parallel dimensions", "parallel worlds", "alternative realities", "alternative timelines", and "dimensional planes," among others. See more at
http://en.wikipedia.org/wiki/Multiverse
.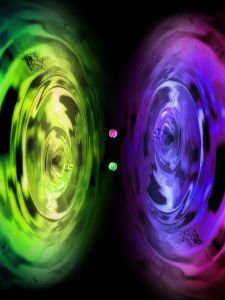 I like the idea of "interpenetrating dimensions" because that's what seemed to have happened with my friend. She and I interacted in her dimension with one outcome, and we interacted in my dimension with a different outcome. The factor that doesn't apply in our weird moment in time is physical laws. Physical laws only apply where there is physical matter. Where there is no physical matter, physical laws don't apply. If the reality I was in wasn't completely physical then we have to look at non-physical, or meta-physical laws. And, since most people don't operate in the non-physical on a regular basis (perhaps we only visit the non-physical in our dream states), we tend not to consider that possibility when something outside of physical laws shows up in our physical experience. It's also possible that my friend and I may have had a momentary intersection of 3rd and 5th dimensional reality where two different versions of the same moment were experienced by each of us. Fascinating!

If you have an explanation or thoughts about this, I'd love to hear from you.