ABOUT TONIA
The Wake Up! Artist's mission is to awaken people to their inner Divine.
---
Tonia (tone-ya) Pinheiro is the Wake Up! Artist a term she coined in 1997 to describe her work as an Ascension Path practitioner and Minister, a multi-talented administrator, group facilitator, inner life coach, spiritual guide, sound and energy healer, dream-keeper, and improvisational singer and actor. In October 2016 she became a published author.

​With more than 30 years of experience in human resources and organizational development, Tonia works with organizations, groups and individuals who want to live authentically, build community, create positive connections and "be the change they wish to see in the world" (thank you Mohandas Gandhi for this quote).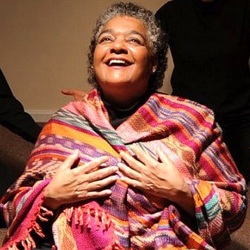 Photo by Edson Dias 2011 - DiasPhoto.com
Tonia was born in Boston MA, lives 20 miles south of the city, and her life has spanned two centuries. She is a microcosmic example that both male and female energies, and the diverse racial, cultural, educational and spiritual legacies of her ancestors (Seminole, Cherokee, African, Irish, English, German, Polish, Ukrainian), can co-exist and live together creatively and successfully in the greater society. She has been in a loving relationship with the same man since 1974; cares for 3 feral cats, and is kin to all animals, stones and trees. Hobbies: making altars; playing card games and Scrabble; doing imaginary daily workouts; beaming peace into the world.
Click here for
DETAILS
of Tonia's life and work.
---