For my whole life I have been a prolific writer in the context of day jobs and work projects. I can write well and have evolved a decent design skill when it comes to flyers, brochures and announcements. However, I lapse into resistance and conflict inside when it comes to personal or creative writing for publication. Even this message . . . the only way I can get it done and actually post it is if I imagine that no one is going to read it.
A friend invited me to be one of 3 performers in her Sunday Salon Storytelling series. And, in true improv tradition, I said "yes!" to her offer. That was back in January 2013. I told her I would take this plunge into the unknown on Sunday May 12, 2013, which turned out to be Mother's Day and also happened to be the 36th anniversary of my mother's passing, and her mother's birthday. So of course the stories I would tell would have something to do with the mothers in my life. The performance was 4 months away and I lived in an internal state of chaos, indecision, fear, and regret for having said, yes.
I've never called myself a storyteller, nor have I ever told stories in front of an audience for more than 10 minutes. My stories have always been told as a natural part of conversation with friends. I do have the stage/performance skills to do it but I (1) never performed like this alone for more than 10 minutes (I've always been on stage with other musicians, actors, singers, or my instruments and meditations to keep me company), (2) never told a series of stories just for entertainment (my stories have always been woven into my work as a public speaker, teacher or facilitator), and (3) never told stories for 75 minute! This prospect freaked me out.
Due diligence . . . I met with 2 friends, who are actor and storyteller respectively, and received wonderful and extremely helpful coaching and ideas for how to create the arc and content of the performance. Four days before the event everything fell into place and what was several months away, is now one month in the past. Time.
The stories I told were all from my life and told as me or in character as my mother and my grandmother. I sang 3 songs woven into the narrative and the audience seemed to enjoy it. But I didn't feel any juice afterward. No sense of joy, or completion, or accomplishment, or satisfaction. I felt neutral, nothing, void. So I decided I wouldn't do it again. Been there, done that. No more storytelling for me.
Several days later my aunt June (who had seen my performance) told me about another storytelling opportunity at the end of September that she "highly recommended" me for. Much to my chagrin I said yes. Duh! I swore I would not do it again. What is wrong with me? I know how to say no. Am I reverting back to my compliant, go along to get along, childhood patterns? No, it's something more than that. It's about challenging myself with discomfort because my life is very comfortable. It's about doing something that I could be really good at if I apply myself. The bigger question is, why? Why am I doing this storytelling thing when I have so many satisfying forms and outlets for creative expression?
Somehow, this ties in to the resistance to creative personal writing . . . something to do with my personal stories needing to be told so, if I refuse to write them down, then they'll get told in performance.
It's easy to "talk" to people when I'm in a group, or teaching, or presenting, or performing, but something about the expectation of doing it for an hour and 15 minutes to entertain people seemed daunting to me. Somehow it's linked to the personal-creative writing issue.
Perhaps getting caught at plagiarizing a story for an 11th grade writing assignment shamed me so badly that somewhere in my subconscious there's now a self-imposed rule that's stopping me from writing creatively or telling my own stories that has spilled over into verbal storytelling.
And then there's the exploration I did when I first joined the Nubian Writers Group in June of 2009. In the process of exploring my fear and resistance to creative writing, I wrote a detailed "fictional" account of a guy who lived in Italy in the 1500s who was persecuted and eventually killed for talking and publishing books about spiritual and cosmological truths. The story I wrote was so interesting to me I did some research and discovered the life of a writer named
Giordano Bruno
whose details eerily matched those in the story I had just written. I thought that maybe this was another life of mine. Even when I read about him again just now on
Wikipedia
I got eerie twinges of recognition in my solar plexus.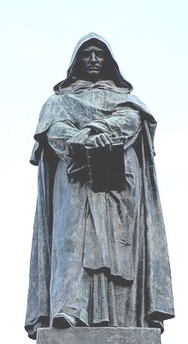 Bronze statue of Giordano Bruno by Ettore Ferrari
Anyway, if I trick myself into calling it "talking about my life" or "telling you about my family history" or "sharing things that happened to me" then maybe it would just flow. But it's called "storytelling" and there's something about the word "storytelling" that bothers me. It's such a benign word. Yet we use the phrase "telling a story" to also mean being a snitch or "lying" or "speaking an untruth" or being deceptive. And I'm allergic to that. I can feel twinges in my belly (my bullshit detector) indicating I'm compromising my integrity even if I knowingly exaggerate the tiniest thing or add some insignificant detail that I know didn't happen but can't remember exactly what the truth is. One of those Ruiz 4 Agreements is "be impeccable with your word" and apparently I've assimilated that agreement very well.

I call improvisation a spiritual practice because you really have to allow the flow of spirit and inspiration to take over, and trust that your fellow actors or musicians will work together with you for the common good. And you definitely have to get out of your head and open up to the guidance and creative impulses that happen in each moment. For me, being in this space of moment to moment surrender is exquisite joy. Yet for me, telling stories I already know, for 75 minutes, is stepping into an excruciatingly small and boring box. Also, in improv, it's important not to be a "talking head", so there's another conflict with the art of storytelling.

I feel like I'm drilling down to something important but haven't arrived there yet. When I do, I'll let you know.