I wrote this blog entry in August 2012. Now it's November and I've finally posted it. I don't mean to whine or complain (though it may sound like it) but I want to share a piece of my process of self-reflection and discovery.
Over the spring and summer months of 2012 I asked myself the question, "What am I doing here?" It seems like I'm existing peacefully, uneventfully, pointlessly. Have I done all that I came here to do? It doesn't feel like it but I'm not sure what "it" is I'm supposed to be doing. Then, in mid-July this message arrived in my inbox:
"Your current purpose is to focus upon peace within your being and mind. This will allow for peace to manifest more fully as an energy of support and stability for all at this time of ascension . . . With change so evident upon the Earth . . . peace is needed as a support and strength. If you are able to adopt a mind-set that expresses and experiences the vibration of peace then you will energize and encourage others to let go of doubt, fear and worry, embracing love and truth on the Earth . . . When you adopt a greater sense of peace within your mind this will imprint upon the minds of others. We are all one united consciousness after all, whether we exist near or far away, on the Earth or on the inner planes . . ."
This was part of a truly helpful message and guided meditation entitled
Purpose of Peace
by Lord Melchizedek, channeled by Natalie Glasson on July 15, 2012. You can read the full message here:
http://wakeupworks.jottit.com/natalie%27s_page_2012
. It went on to say:
"We are all being asked by the Creator to release the habits of fear, worry and doubt replacing them with an inner knowing, love and empowerment. The magnification process in December 2012 allows for us to enhance and amplify all loving qualities of the Creator that exist within our beings. The magnification process is an experience of empowerment, but in order to truly experience empowerment there is a need to accept yourself and let go of unneeded energies that no longer serve you."
So I read this and think, "This is my present mission . . . to release unneeded energies of fear, worry and doubt and replace them with an inner knowing, love and empowerment."
Then I realized that my personality aspects and my ego are afraid to allow the Divine Expression that I am to be. To fully accept the truth of who I AM. To burn through the falseness, resistance, and worry about what people will think if I live and express myself from that place . . . worry that my ego will take advantage . . . worry that I'll "be too big for my britches". . . so I hold myself back. I'm sobbing as I write this. I don't allow my Goddess-self, my Amma-self, my Divine Mother-self, my Creator-self, my Radiant-self, my Joyous-self to be visibly present at all times, especially when there's no audience, when there should be no worries at all about being seen. What's that about?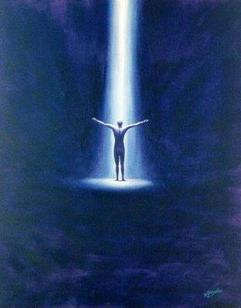 At another place in the message it said:

"With peace and connection with the Creator you can follow your inner guidance, being of service in all areas of your life and the lives of others. Guidance is always present within you and channels through you from the Creator; there is simply a need to create a space for your intuition to flow in all circumstances. You will then be given the most divine and sacred tools to assist and be of service in all situations whether you are directly involved or not."

I have all the toys and tools but don't use them. With all the available time and opportunity I have, I don't ever use my skills to just entertain myself even though that's the inner guidance I receive. Despite all the musical instruments and art and writing supplies I have, I don't use them when I'm alone. And I'm alone a lot. I just sit at the computer and do work for others – some of which is necessary because it produces income – some of it is just being helpful. I never sit outside in my beautiful back yard. I have so many things around me that are beautiful and meaningful to me yet I do nothing but sit at the computer or sit in front of the television. Is that what they mean by having a "screen addiction"? Hi, I'm Tonia and I'm a screen addict.

If I imagine that the reason I'm in such a holding pattern is because I am being a pillar of light and peace on the planet, and it causes me to be as still as possible, as much as possible every day, then it makes it easier to accept this overwhelming sense of pointless nothingness with work and brief segments of watching TV or playing computer card games.

But never am I doing anything that feels creatively satisfying unless I'm doing it for someone else's benefit. And if no one shows up to receive it then what's the point of doing it? This is also why I never do anything just to entertain myself. I only do it if it is going to help some person, or project, or cause, or group, or audience of some kind, or is absolutely necessary to maintain my health, home or livelihood. When the receiver goes away then I'm left with no reason to do anything.

Sometimes I wish I had the compelling consciousness and passion of a visual artist who can't live without painting or drawing or sculpting or engaging in some form of art making. I just don't have that passion for anything. It only shows up when someone needs my help or I'm in performance beaming divine presence and healing through my offering. Since the receivers have been so few over the past 18 months, I'm changing my focus from music and sound healing to teaching improv and Playback. I find it enjoyable and meaningful but I don't feel any passion about it. It's just something I can do that if it helps people feel happier, more alive, more free, and more engaged in meaningful service to others then, in the process, I get to feel that my life has meaning.

The fact that I'm even writing this entry is remarkable since I've been hearing the inner encouragement to write my life's stories for months now, yet never actually do it. What is the resistance to following my inner guidance when it benefits no one else but me? Enough already!

For now I'll be satisfied with holding the state and energy of Peace. That's a pretty important job and I'm happy to do it. Just wish I could know what impact it's having. I guess that's where trust comes in. Okay, let me say this differently . . . I know, love, and feel empowered to be a Pillar of Peace in the world! I know, love, and feel empowered to be joined with other known and unknown beings who are Pillars of Peace in the world! We are doing this "behind the scenes" work with knowledge, love and power to benefit humanity and the planet. And so it is!