My life and my writing is a collection of little pieces waiting to be formed into a completed work of art. Each piece is complete unto itself yet, when joined with hundreds of other small pieces, contributes to a larger picture of my life.

In true ADD (Attention Deficit Disorder) style I've gone online and looked up the word mosaic. I find an image so as to further illustrate what it is I'm saying.

Mosaic: a picture or pattern produced by arranging together small colored pieces of hard material, such as stone, tile, or glass.

And now that I read this definition I realize that what I'm describing is actually a mosaic that uses many tiny images instead of tiny pieces of stone, tile or glass. So I look that up.

Photomosaic: An image composed of many smaller photographs; a large-scale detailed picture made up of many photographs.

When you look at this from a distance it's an image of President Barack Obama. When you zoom in, it's hundreds or thousands of individual pictures of different people many of whom are holding campaign signs.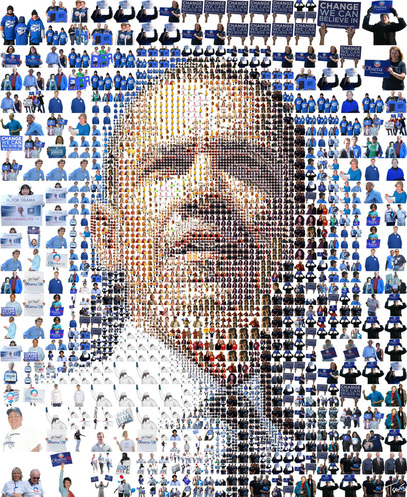 This is what our life is. Thousands and thousands of individual moments, thoughts, actions in each day, week, month, year, decade, lifetime that create the photomosaic of our life. What do you think your portrait would look like if each mosaic pixel was a snapshot of each of your moments – mundane, traumatic, ecstatic, mysterious; each of the people you've met along the way; every kindness, every meanness, every moment of self care, ignorance, and sacrifice you've made? I'd love to be able to see what kind of portrait my moments have made so far. I wonder if that's what the Akashic Record is like. Find the person's overall portrait then examine specific tiles or pixels for details.
For a good "definition of the Akashic Records as found in the records themselves" go to Carolyn Evers website:
http://www.akashic-reading.com/akashicrecords.html
. Here's an excerpt: "Akasha is a place where the records are deposited for this planet Earth. It is a location. Akashic records are a recording of all activities and emotions of each individual soul who has experienced Earth in any form. The records are deposited by the soul itself and it is an automatic process. There is no way that these records can be altered or changed by the soul as this recording is completed through a process of vibration."