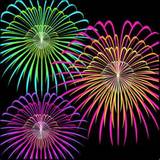 For those of you who may not be familiar with my use of Independence Day here's how it goes:
Since 1997 I have used the collective energy of Independence Day as a point of focus and support 1) to declare my independence or freedom from an environment, situation, person or personal habit that is no longer healthy in my life and/or 2) to be free to do, be, or have something I've been desiring. The declarations, which I write down, date and post on my fridge or place on my altar (depending on what it is), are especially effective when I choose to be free – independent - from something I feel is holding me back such as an internal pattern, behavioral habit, assumption, belief, or outer circumstance which no longer serves my personal or spiritual growth, wellbeing, and/or effectiveness in relationships and service to others.

Go for it! Take some time to follow these simple steps: 1) Write down whatever it is that you are ready to change or let go, and be clear and specific. 2) Write down the new vision - the ways you want to be living that will replace the things you are letting go. 3) Make the intention that the millions of people who are celebrating Independence Day are directing and adding their positive, celebratory energy to the success of your personal declarations of independence and freedom. 4) Imagine, see and feel all of the parades, celebrations, parties and fireworks are happening just to support and celebrate you!

Now the fun and point of the whole thing is this: Take a few moments to think about the magnitude of what's happening in the United States with respect to the collective joyful mood and happy activities of the many millions of people across the country around and on Independence Day. TAKE IT IN DEEPLY, really GROK it. Now imagine, feel, and KNOW that all of these gatherings, celebrations and fireworks are specifically and only for YOU and your Declaration of Independence! Now ride this wave of The Celebration of You by imagining and allowing yourself to feel the encouragement and support in your personal decision to be effortlessly independent and successful in whatever you have chosen and declared. In each case that I have been very specific, I have been successful. When I have not been specific, I still have the pleasure of imagining that all the parades, cookouts, gatherings, celebrations and fireworks are being done just for me because of who I am and what I've accomplished in the past year that deserves celebrating.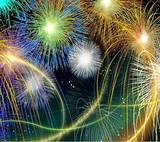 This year I received inner guidance to view the word as In-Dependence, to depend on one's Inner Guidance and I AM Presence for support and nurturance. When I allow myself to be dependent on my Inner Divine, it sometimes causes a ruckus with my ego or personality aspects. I may experience subtle but noticeable bouts of rebellion in the form of engaging in distractions like playing computer card games or watching TV for extended periods of time. A little break is fine, but when two hours goes by and I realize that I'm avoiding meaningful activity or quiet meditation I recognize that some part of me is in rebellion. The unfortunate part is that instead of taking that same distraction time and using it to explore what's really going on in me, I just zone out in front of the screen.

So, this In-Dependence Day I declare that I will follow my Inner Guidance especially when it guides me to do something that generates an "ignore it" response from some part of my personality or ego. I declare that I will use any distraction time to explore what the distraction is really about. I declare that I will nurture those inner parts of me that feel ignored or abandoned and bring them into a loving field of attention and care.