DREAM SONGS ~ DREAM READINGS

And you don't know where you're going, if you don't know where you've been.
In the journey out of dreaming, in the singing out of infinite discovery,
Lightning lit remembering, sacred tools assembling, you're tunneling deep within.

[lyrics adapted from Crone by Louise Cloutier]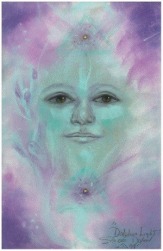 Soul Portrait of the DreamKeeper
DREAM SONG

Singing Out What's Seen Within Your Dream
Any night dream can become a Dream Song.
Any dream, desire, vision or intention for your life or work can become a Dream Song.
When you want more understanding, insight or direction
your Dream Song will call you, guide you, heal and inspire you.
You've had a night dream or a dream for your life about which you want more understanding, insight or direction. ​
I will listen to your dream then go within. Your Dream Song will have original melodies, words, sounds, tones, and insights specifically for you as received from the Source where we are One.
No two Dream Songs are ever alike because no two dreams are ever alike. There are night dreams and there are life dreams. Even if a dream for your life seems the same as another's - for example, if a person's life dream is to be a healer - that person's unique human configuration will inspire a Dream Song unlike that of anyone else whose dream is to be a healer.
A Dream Song is a collaborative experience between the Dreamer and the Dream Singer. I use my voice, my knowledge as a DreamKeeper, my improvisational ability, and my intention to be a channel for the Divine in service to humanity. The Dream Song is an original, one-of-a-kind offering to you. Invite me to sing your dream to you and together we will discover what more you need to know . . . in the journey out of dreaming.

DREAM READING
A Dream Reading is a conversation between the Dreamer and the DreamKeeper. When you have a night dream that needs understanding and interpretation contact Tonia for help with the deeper meaning of the dream as it applies to your life.
CREDENTIALS
In 1972 I began to learn the ways of the Dreaming Path from my mother who was educated in the Jungian dream work approach and was a skilled coach and mentor. From this beginning, I learned that Ascension is the process of conscious integration of one's divinity (soul, spirit, I AM Presence) into one's physicality (physical, mental, emotional and etheric bodies). I have made a life-long commitment to the Ascension Path and all of the inner work and outer applications this path and process requires.

Since 1991, I have been a DreamKeeper - a holder of the art, wisdom and knowledge of dreaming. In this sacred role I have helped hundreds of individuals understand their night dreams. For more than 25 years I have lectured, and created and led ceremonies, workshops, study groups and retreats to explore dreaming, personal growth and awareness, and spiritual development with small groups and large audiences including being a keynote speaker and workshop leader at a national conference of Native American women at Hartford Seminary.

I formalized my coaching education and practice by training and graduating in 1998 from a comprehensive 2 year training program offered by Coach U Inc.

SESSION DETAILS
A Dream Song or Dream Reading sessions take place by telephone or in person with client initiated contact at the scheduled time.
Note: a Dream Reading is not a fortune telling. The client is a full partner and active participant in the reading process.
For more information or to schedule an appointment contact Tonia in Massachusetts USA at
Tonia @ wakeupworks.org and include your full name and telephone number.
---
Tunneling [5:03]: sung by Tonia; Ukumbwa Sauti on electronic Udu; Mark Nathanson on Guitar. Song written by

Louise Cloutier

.