SOUL SING with TONIA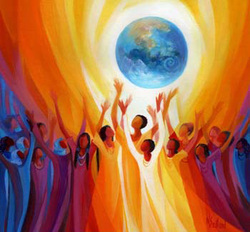 3 class series on Saturdays Jan 28, Feb 25 and Mar 24 2012 – 7-9 pm
The Center at WestWoods, 590 Gay Street, Westwood MA

Warm up your 2012 winter months with Soul Sing - a group singing practice for everyone where we give voice to the inspirations from our Soul and our Heart and share them with others!

Happy people make a happy planet! Soul Sing is meant to open the heart and bring us joy through the expression of singing, bypassing any beliefs about whether or not you can sing, or whether or not you think you have a "good voice". For those who are confident, and for those who are shy, this will be a wonderful exploration of what's possible to sing with a group.

Singer and Sound Healer Tonia Pinheiro will lead the group in an exploration of what the Soul has to sing and the Heart has to say. Using various vocal exercises, songs, chants and new creations, she will share with participants her joy of singing and vocal improvisation. You will learn to deepen your ability to listen well, be more spontaneous, and create more joyously with others. You don't need to be a professional singer but you do need to be open to exploring vocally the many ways we can sing together – as a whole group, in parts, solos, 2s, 3s, 4s or more. Bring a friend and come explore!

HOW TO REGISTER
This is not a drop-in class so please pre-register with Tonia for all three classes at
wakeupworks[at]gmail.com
by or before January 23, 2012. Include in your email 1) your full name, 2) your phone number and 3) whether you plan to pay at the first class for all 3 classes at once, or pay for them individually with a 3 class commitment. Minimum class size is 6, maximum class size is 20. Fee: $75 for all 3 classes payable at first class, or $30 per class.
If there is sufficient interest we will explore expanding this to a monthly class or to a weekly or bi-weekly class with a different fee structure.
USE IT and PASS IT ON: C'mas is the new abbreviation for Christmas.
Read more about X the X
here
.
Website content © 2008-2012 Tonia Pinheiro & In The One Music. All Rights Reserved.
Banner photo ©
Chris Seufert Photography