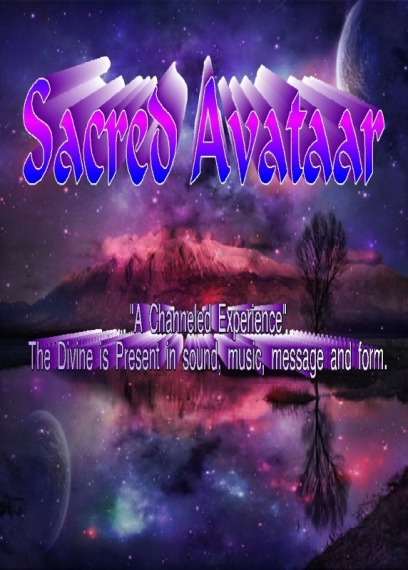 ~ Pre-Registration Required. Email Tonia at WakeUpWorks[at]gmail.com with your full name and the name and date of the event you plan to attend. ~

The Divine is Present in sound, music, message and form.
An evening of revelation, insight and healing with
OOVOSH
(scroll to end of ABOUT page to read more about OOVOSH):
Rev.
Tom Frederick
, Lakota Wisdom Keeper & Spirit Messenger
Rev.
Tonia Pinheiro
, Minister of Ascension & Wake Up! Artist
Randolph and Westwood
~ November 4, 5; December 2, 10 ~
(Scroll to end of page for locations, times and details)
Experience profound energies, wisdom and communion that begin with a Lakota healing song, a beautiful chant to call in one of 26 specific Avataar energies and a sound bath. The heart of our time together is to hear the Avataar's message and teaching. A time for questions follows the message and sometimes there's a personal message for someone present.

Each Sacred Avataar session is new and different.

At a session in Randolph "Cavasa" spoke about sacred geometry and gave us an exercise to help us understand how we perceive - or are unable to perceive - higher dimensions. We also received guidance and exercises to recalibrate our bodies to function at faster frequencies of light while still living in 3-D.


In a service at Our Lady of All Nations Mediatorist Church "Metachior" gave an inspiring message and a simple exercise to show us how to step into the reality of our choosing in a very real way.
~~~~~~~~~~~~~~~~~~~~~~~~~~~~~~~~~~~~~~~~~~
"An Avatar (also spelled Avataar) is a Being who has developed his/her own nature, human and divine, and then transcended it. An Avatar is capable of reflecting some cosmic principle, divine quality, or energy which produces a desired effect upon humanity. . .The constant task of an Avatar is the establishing of a spiritually positive nucleus of energy by focusing or anchoring a dynamic truth, a potent thoughtform, or a vortex of attractive energy in the three worlds of human living. . . The whole system of spiritual revelation is based upon a conscious linking and transmission of energy from one aspect of divine manifestation to another ~ from "God in the Secret Place Most High" to the humblest human being struggling on earth. . ."

Excerpts from:
http://www.souledout.org/newworldreligion/avatars/avatars.html
Sacred Avataar in Dorchester
7 pm Thursday Sept 16.
Suggested Donation $20.
Gallery G at
The Black Indian Inn
38 Bicknell Street, Dorchester MA 02121
Take Blue Hill Ave/Rt.28 to Harvard St to Bicknell St. (Look at map to know which direction from your location). Harvard is the left fork at Talbot Ave. & 'SUN PIZZA/HAPPY MARKET'. Bicknell is on the left after red & white church sign. #38 is half-way down on left and has banner for 'Gallery G' on front porch railing.

Sacred Avataar in Randolph
7:15-8:45 pm on first Thursdays Sept. 2, Oct. 7, Nov. 4, Dec. 2.
$20
. Pre-registration required; min attendance 5 people. Send full name with event and date you wish to attend to WakeUpWorks[at]gmail.com
Red Road PHC
- Suite 204 (2nd fl)
1191 N. Main Street (Rt. 28)
North Randolph MA 02368
North Main St. is Route 28 South, Exit 5A-Randolph off Rt.128/93/3.
Building is about 1/4 mile on the LEFT after the highway. It's between the CITGO/Car Wash and North Randolph (Shopping) Plaza in a long building with large green and gold signage. You'll see 'Frame Man' at one end of the building and the North Randolph Plaza parking lot at the other end where you can park.
There's plenty of parking on the side or at the back of the building.
Go to the center doorway (1191) between the retail spaces (either at front or back of building) and walk up to the 2nd floor to suite 204-Red Road PCS.
By the T, take the 240 Bus from Ashmont or Quincy Center on the Red Line,
or take the 240 Bus from Holbrook/Randolph Commuter Rail station
and get off at/across from North Randolph Plaza.
Sacred Avataar in Westwood
7-9 pm, Fridays Oct 8, Nov 5, Dec 10.
$30. Pre-registration required; min attendance 10 people. Send full name with event and date you wish to attend to WakeUpWorks[at]gmail.com
The Center at Westwoods
Meditation Hall
590 Gay Street, Westwood MA 02090
| | |
| --- | --- |
| | Sacred Avataar Spirit of the One (6:09): Tom Frederick & Tonia Pinheiro. |
USE IT & PASS IT ON: X the X . . . C'mas is the new abbreviation for Christmas.
Read more about it
here
.

Website content © 2008-2010 Tonia Pinheiro & In The One Music. All Rights Reserved.
Banner photo ©
Chris Seufert Photography