PERUVIAN WHISTLING VESSELS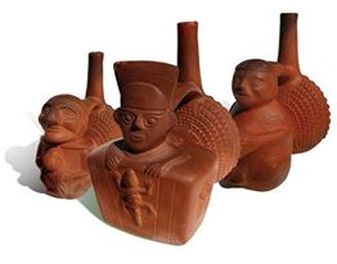 Shamanic Journey
Sunday May 25 2014, 2-4:00 pm, $40
The Center at Westwoods, 590 Gay St., Westwood MA

Don't miss this rare opportunity to join Vessel Keeper Joe Hayes and Wake Up! Artist Tonia Pinheiro
to engage with and play these powerful spiritual tools from another time and place.

ATTENDANCE IS LIMITED to 10 people.
Register with Tonia by or before Friday May 23rd
by email at WakeUpWorks @ gmail.com
and include the full name of each person you are registering.


Throughout history, every culture has used various means to pierce the veil and engage the Divine. 2500 years ago, the Inca and Vicús cultures of South America developed double-chambered whistling vessels to 'speak with God.' When played in a group, these vessels initiate a psycho-acoustic response that can launch us on a powerful journey of self-discovery. We'll open with ritual drumming on the Thunder Drum, then name our intentions and begin our journey! "For over two thousand years, different cultures in Peru produced vessels, psycho-acoustically tuned instruments, which produce vibrations that induce an expanded state of consciousness different from anything known today. They stopped producing their vessels when conquistadors entered their land. They did not share the vessel experience with the invaders. For hundreds of years the vessels have remained silent, waiting for this point in history to reawaken." ~ Donald Wright, vessel maker, http://www.entheosound.com/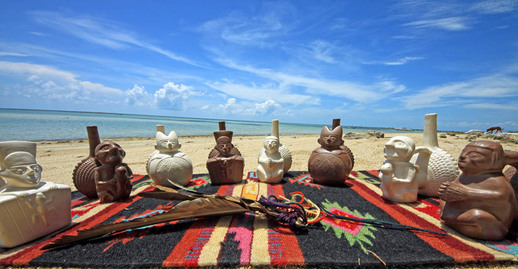 Entheosonic Whistling Vessels are transformation tools using the inherent power of sound to unlock our creative powers.
The universal and sacred language of sounds produced by the vessels is used as a doorway to synchronize acoustic resonance with Gaia, our mother earth. The vessels produce "phantom tones" or "beat frequencies" inducing shamanic sound ecstasy to tune our manifestation with the planetary consciousness and to reveal our most inner potential. (Photo and text from
http://PeruvianVessels.com
)


A brief HISTORY of Peruvian Whistling Vessels
(from Don Wright's website http://www.entheosound.com)

For over two thousand years the vessels were part of generation after generation of Peruvian people. Around 1532 AD the makers of Peruvian whistling vessels were conquered by the Spanish. Corresponding to this date the vessels effectively ceased to exist! We can be relatively sure of this because the Spanish conquerors, who kept detailed and copious notes of these conquered people, did not once mention the vessels. What is just as mysterious is that the Peruvians, themselves, never depicted or left any decipherable record of the vessels or their use.
Peruvian whistling vessels were and are not merely ceramic utilitarian or decorative instruments. They were, I believe, religiously and with great skill tuned utilizing synesthesia around the primary frequency of the culture. This primary frequency evolved, becoming higher for each new culture. The frequencies at which they were tuned are in the amplitude/frequency range that we have only recently discovered produces an auditory illusion of being 15% louder than the true amplitude.
When an individual died, his or her whistling vessel was such an intimate, personal artifact that it was not passed on to the family, but instead taken to the grave to accompany the person into eternity. It is interesting to me to observe that during present day Peruvian ceremonies, Peruvians continue to wear small empty bottles tied around their neck. Bottles which they repeatedly blow across to produce the sound of a whistle. Unfortunately, the small glass bottle will not open the portal to the shamanic realm accessed by their ancient ancestors with Peruvian whistling vessels.
On April 27, 1972, Peruvian whistling vessels reawakened through a person named Daniel Statnekov, a prosperous east coast businessman. Daniel purchased a vessel at an estate auction because of its antiquity. He happened to blow through it in his study one day and the resulting experience changed his life. Daniel's story can be read in
Animated Earth
, Berkeley: North Atlantic Books, 1987.
After teaching and apprenticing Don Wright to make the vessels, Daniel passed on his molds, sacred clay, and vessel making tools to Don who continues to produce the vessels today.