Unified Field &
Transmission Meditation
Archangel Ariel's
Unified Field Invocation

The following excerpt is taken from the book: What Is Lightbody? by Archangel Ariel through Tashira Tachi-Ren - a must-have addition to your Ascension Teachings library.

~~~~~~~~~~~~~~~~~~~~~~~~~

The Unified Field Meditation creates a bubble of Light that allows you to handle faster and vaster frequencies of Sound and Light and acts like a force field of protection. Most of us walk around running the energies and beliefs of others because our bodies are separated. The Unified Field helps to screen out other peoples' dramas, energies, and pictures of reality so you can live a more balanced and authentic life. Creating and living within the Unified Field will assist you to follow your Spirit with every breath and every step. Unlike a lot of meditations you stay conscious and don't leave your body. It is an altered state but one you can live in.
Transmission Meditation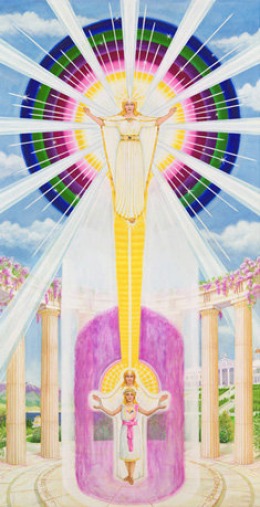 The I AM Presence - tsl.org
Transmission Meditation is both a service (Karma yoga) and a potent technique for personal development (Laya yoga). It is a spiritual practice that affects the entire evolution of humanity for the better.
There are more than 600 Transmission groups in 40 countries worldwide meeting on a regular basis.
"Transmission Meditation is safe, scientific, non-denominational, and extremely potent. It will not interfere with any other religious or spiritual practice. In fact it will enhance your personal meditation and any other service activities in which you may be engaged. Many people find they can experience and demonstrate love more easily. Others report that their mind is more stimulated and creative. Some people receive healing, spontaneously, during the transmissions.

"Transmission Meditation is a group service activity which 'steps down' the great spiritual energies that continually stream into our planet. During transmission, the Masters of Wisdom direct these energies from the spiritual planes through the energy centers (chakras) of the group members in a highly scientific manner. This process, which makes the energies more useful to humanity and the other kingdoms in nature, is similar to that of electrical transformers, which step down the power between generators and household outlets.

"Based on their wise understanding of our world, the Masters re-direct these stepped-down energies to wherever they are most needed at that moment in time. In response to these energies, for example, nations that have been enemies for centuries may now find they can talk together around a table and peacefully work out solutions."
Above excerpt and more information about Transmission Meditation and Christ Maitreya can be found at:
Share-International.org
~~~~~~~~~~~~~~~~~~~~~~~~
---