Diving Deeply into the Divine!

Saturday, November 29, 2014 from 1-4 pm
at The Center at Westwoods Meditation Hall, 590 Gay Street, Westwood MA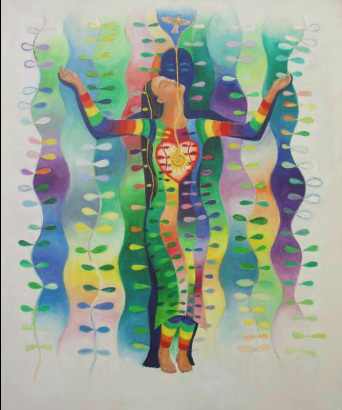 Come Swim with us in the Pool of Creation!

A Vocal Concert with Elisabeth Westermann
to nourish and open your heart
&
A Sound Bath with Tonia Pinheiro
to bathe and restore your 5-body system

Sound is the Voice of the Divine.
Song is the Melody of the Goddess.
Together, the frequencies and vibrations
of song and sound open your heart,
soothe your mind, calm your body,
and still your emotions, so you can feel your
Divine Essence within.


Elisabeth Westermann
, founder/creator of Atlas Balancing, Soundcodes for Spiritual Healing, Singing Heart Voice Therapy, and Oneness Deeksha Trainer is coming to Boston from Germany for this special concert followed by a one day Soundcodes workshop on Nov 30 and private sessions on Dec 1-3. In this concert, Elisabeth will share music and sounds for the "flowering of the heart" using her Soundcodes (healing vibrations crystallized into potent syllables), beautiful vocal improvisation, and some original songs. Come and treat yourself to the soothing voice and mystical tunes of Elisabeth's creation, and bask in her healing sound vibrations.
http://atlasbalancing-usa.org/
Tonia Pinheiro
, Wake Up! Artist and shamanic sound healer, transmits healing energies and alignments from the spiritual realms through the sound waves of her voice and the instruments she plays. These sound frequencies have a positive effect on your energy bodies, the neural pathways in your brain, the cells and molecules in your body, and the coding in the DNA so that you can safely heal on all levels and experience the realization of your intentions. More at:
http://WakeUpWorks.org
Lydia Erickson
is a certified Atlas Balancing Practitioner with a private practice in Sharon and Stoughton MA. Lydia will be adding her presence, voice and violin to our offerings. She'll also be greeting everyone at the door and will help you sign up for
Elisabeth's 1-day workshop: Introduction to Soundcodes "Opening and Healing your Heart"
on Sunday, November 30
,
US$170 cash; and
Soundcodes private sessions
on specific life themes on December 1-3, US$345 cash; both held in
Stoughton MA
. More at:
http://atlasbalancing-usa.org/
Diving Deeply into the Divine!
$40
cash at the door
if pre-registered by Friday November 28
(the day after Thanksgiving).
$50
cash at the door if
not
pre-registered by November 28 [non-negotiable].
To pre-register with Tonia by Nov 28
send full name, phone #, and town for each person
planning to attend
to:
WakeUpWorks @ gmail.com
.Bring:
water; snack; warm socks or slippers; mat, blanket, pillow, etc. to be comfortable on the floor
(the Meditation Hall has some supplies).