ABOUT THE MUSICIANS
---
DIDGERIDOO WORLDWIDE MEDITATION MUSICIANS

current roster: Daniel Shea, Alan Stonewolf Bento, Tonia, Jaime Poyant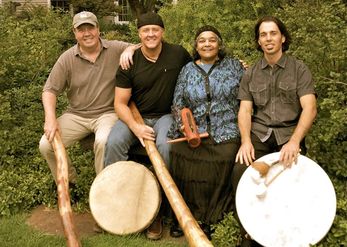 OTHER MUSICIANS
Dave Curry, Percussion
Freeana Werth, Vocals, Flutes
Jaime Allen Poyant, Percussion, Strings
Mark Nathanson, Percussion
Ukumbwa Sauti, Electronic & Acoustic Percussion
SOUND BATH & EAST COAST CHANT MUSICIANS
Alan Stonewolf
is deeply committed to assisting humans to find and fulfill their highest truth. A gifted intuitive, trained in the art of Sacred Sound Transmission and Shamanic Traditions, Alan is also certified in hands on healing techniques including Reiki, Shambala, and Magnetic Healing. Combining his abilities as a life-long musician (drums, didgeridoo, flute, bowls, percussion), 15 years of Spiritual exploration, and the assistance of his Spirit Guides, Angels and Allies, Alan enjoys creating healing forums for others to experience inner exploration, empowerment, awakening, and the integration of the authentic essential selves.
Ukumbwa Sauti
(ukumbwa.com) is an accomplished percussionist and vocalist who creates inspired acoustic and electronic rhythms, environments and sound atmospheres. He is an educator and an initiated Elder in the West African Dagara tradition. He studies and practices African, Native American and other cultural and spiritual traditional elements. Ukumbwa is currently working as both an eduator and a diviner, numerologist, shamanic practitioner and sound healer.
Mark Nathanson
is a quiet, dynamic, multi-talented musician who offers seamless support, textures and rhythms with guitar and acoustic percussion. He has toured internationally with Broadway productions, R&B legend Big J McNeely, and even ran away to join the Clyde Beatty-Cole Bros. Circus. One of his highlights was a tour to Brazil with the Broadway revival of The King & I. His music appears on a CD sampler produced by Spiritual Circle Cinema for their film makers. He is a self taught finger-style guitarist and composer. Mark is currently studying the music of silence and stillness and wishes all a safe trip from the head to the heart.
Past ECC musician
Paul Rodriguez
is a warm talented guitarist who played with East Coast Chant during the 2008-2009 season.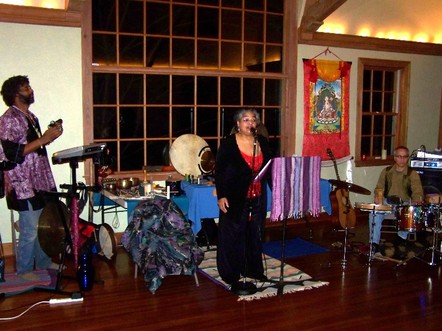 | | |
| --- | --- |
| | Om Namo Pranaya [5:19]: Tonia, Ukumbwa (djembe), Mark (guitar) |